Enrofloxacin is the active ingredient of Neoflox, it has a wide spectrum of antibacterial activity, its high bioavailability and penetration into most organs and tissues of the body ensures high efficiency in treatment of various diseases:
respiratory infections;
gastrointestinal tract infections;
soft tissue infections ;
otitis ;
urinary tract infections ;
infected wounds .
The advantages of the product:
High efficiency. A wide range of antibacterial activity ensures killing disease-causing bacteria at the site of infection.
Reliable result. Enrofloxacin is well studied in veterinary practice. It is medicine of choice for the treatment of many diseases.
Safely*. The active ingredient belongs to low-hazard substances and it is well tolerated by animals at recommended doses.
Convenient form of use - tablets facilitate the process of treatment, and the aroma of beef ensures trouble-free feeding.
* Do not give the product to kittens under 2 months old, puppies under 12 months old (large breed puppies under 18 months old), pregnant and lactating females.
Neoflox tablets for cats and small dogs, 10 tablets
V101
Antibacterial tablets, 1 tab. per 5 kg of body weight
AI: 1 tablet contains 25 mg. of enrofloxacin. Pack quantity: 26 pcs. Weight - 0.3 kg Bar code: 4607092078298
Neoflox tablets for medium and large dogs , 10 tablets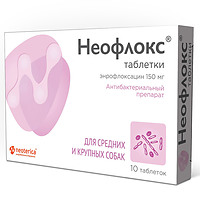 V102
Antibacterial tablets, 1 tab. per 30 kg of body weight
AI: 1 tab. contains 150 mg.of enrofloxacin. Pack quantity: 26 pcs. Weight - 0.5 kg. Bar code: 4607092078304