Suspension LivetNeo – food supplement for support and improvement of liver and gall bladder function in cats and dogs.
Benefits of LivetNeo:
Complex of essential phospholipids regenerates damaged hepatocytes, improves their function.
High-quality herbal extracts stimulate the natural cleansing of the body.
Pleasant taste and smell of meat attract your pet and facilitate feeding of the supplement.
Convenient dosing syringe has no sharp edges and does not traumatize your pet's mouth.
Leak-proof bottle does not spill and make your hands dirty.
LivetNeo for cats and small dogs, 50 ml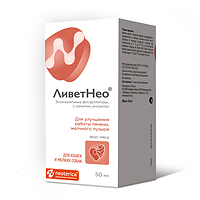 V403
for support and improvement of liver and gall bladder function
Active ingredients: lecitin, L-ornithine, milk thistle and immortelle extracts, inositol. Pieces in box: 20 pcs. Weight: 2.85 kg Barcode: 4610117790396
LivetNeo for medium and large dogs, 100 ml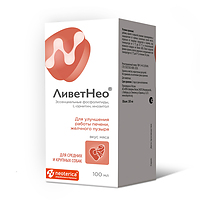 V404
for support and improvement of liver and gall bladder function
Active ingredients: lecitin, L-ornithine, milk thistle and immortelle extracts, inositol. Pieces in box: 20 pcs. Weight: 4.2 kg Barcode: 4610117790402